Family Letter: The Transition Experience
Tuesday, March 13th, 2018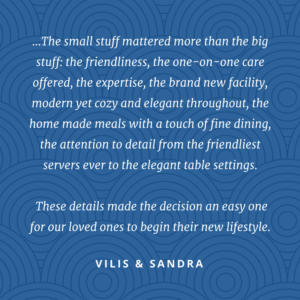 As time goes by, sooner or later we have to face some tough decisions in our lives, especially when these decisions are made for loved ones.
As the age of retirement welcomed my father and mother in law, my wife Sandra and I had to start making decisions and recommendations for a new lifestyle for them.
In this particular case the recommendations included the return to their home base from the warmth of the south to the colder north, closer to their children and grandchildren. This return had more than just a joyful return to be closer to loved ones, it also had aging and health factors to be considered.
The quest for a suitable facility so my parents would have a seamless transition became extremely easy once we learned about the Seacliff Manor.
The staff at the Seacliff Manor made it so easy to understand the concept of independent living and perhaps at a later date the transition to assisted living, we immediately knew that this would be the right place to introduce this new lifestyle for them.
The small stuff mattered more than the big stuff: the friendliness, the one-on-one care offered, the expertise, the brand new facility, modern yet cozy and elegant throughout, the home made meals with a touch fine dining, the attention to detail from the friendliest servers ever to the elegant table settings. These details made the decision an easy one for these loved ones to begin their new lifestyle.
Total care is present 24 hours a day at Seacliff Manor, once again making the entire decision process an introduction peace of mind for both us as children and our parents.
It gives us great pleasure to express our most sincere satisfaction as we see this family owned business providing such great comfort and peace of mind to the loved ones who become residents, as well as to those who had to make the decision in making this their new lifestyle.
Respectfully yours,
Vilis & Sandra