The Lost Land of Dementia and Caregivers
Friday, April 13th, 2018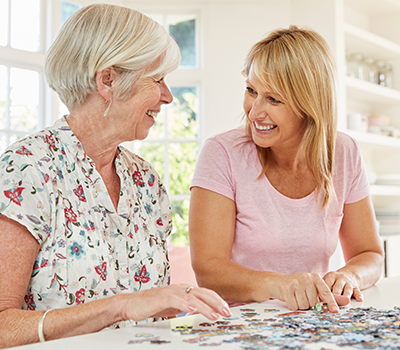 Describing a life with dementia or Alzheimer's is hard. What happens when you lose yourself and a loved one? Across Canada almost a half million people suffer from dementia and Alzheimer's. Within 15 years that number will reach a million. As populations age those with dementia grows exponentially, primarily affecting those over 65 years of age.
Every aspect of dementia includes a life of episodes both for those suffering and those who care for them. Spouses and adult children struggle with a slow unraveling of a life or at least the memory of that life. To watch someone you have deeply loved fail and withdraw into a foggy world that you can't understand or reach is a crushing sadness and tragedy.
There are times when your loved one is present, lucid and aware only to be followed by a growing number of times the memory is gone. Each stage of decline builds on the next causing an increased sense of confusion. The devolving needs of care – environmental security to protect from injury, medications administration, bathing, assistance in the bathroom and the occasional resistance or acting out against support, and the ever increasing memory loss and supervision, can really take a toll on families, more specifically the children or spouse of those battling dementia. The caregiver support required erodes the intimacy of respect and love often felt within families and relationships and greater memory loss takes the loved one further away while the toils of caregiving are substituted.
Seacliff Manor offers specialized memory care called Reflections. Reflections, as the name suggests, is a dedicated program designed to support those struggling with dementia and their families by seamlessly offering environmental security along with the caregiver role of support so that a spouse, adult children and friends can just enjoy the moments by living in the moment along with their loved one.
When caregiving is managed in a dedicated way, it relieves the spouse or adult child of stress. This relief can transform the situation, and more importantly – it can transform relationships.
Your loved one affected with dementia is truly living in the moment. Free to enjoy wherever their mind is at. They relish moments of dancing, laughing, remembering childhood memories without worry of the present or future. Supported families can find a place with them within this new and welcomed reality. Celebrating a life well lived by discovering life-long skills, old photos, past dreams and lost memories together.
It is impossible to alter the ultimate destination of dementia, but Seacliff Manor's Reflections program can offer essential support and help you to learn to enter your loved one's reality and support the journey.